Library News and Announcements
Item request has been placed!
×
Item request cannot be made.
×

Processing Request

Loading PurpleAir Widget...
The Ligonier Valley Library and the Ligonier Air Quality Program
Ligonier citizens along with Citizens to Preserve Ligonier Valley, have received a grant from the Pittsburgh Foundation to cover the cost of a three-year Ligonier Valley air quality program. This baseline study will be conducted with analysis by The Environmental Health Project (EHP) to benefit the health and welfare of the residents. Ligonier Valley is especially susceptible to air pollution due to its topography. Industrial activity in the region and surrounding areas could potentially exacerbate air pollution for residents and threaten tourism, our major attraction. This air quality study will provide residents, supervisors, and visitors with baseline information on local air quality by measuring both Particulate Matter (PM) and Volatile Organic Compounds (VOCs).
Ligonier Valley Library has three types of Air Monitors
1) PurpleAir Sensor- Fine Particulate Air Monitor
"These laser pollution sensors use laser particle counters that provide an accurate way to measure smoke, dust, and other particulate air pollution in real-time. The Purple Air records a range of particulate matter on a continuous basis throughout the monitoring period in µg/m3. This online data base and mapping tool is now available to Ligonier residents.'
Ligonier residents can now get real time and daily/weekly averages for Air Quality in Ligonier online by going to: Real-time air quality map | PurpleAir
Once you are on the PurpleAir website a map of your location will come up. If you are in Ligonier Valley the map will show ten PurpleAir monitors located throughout the Valley from Donegal to Wilpen. These sites include The Ligonier Valley Library, Powdermill Nature Reserve, the Compass Inn Museum along with Ligonier resident's homes. PurpleAir monitors are throughout the country and worldwide so if there is another location you would like to see air quality, go to the upper left-hand corner and input that location.
2) Volatile Organic Compound (VOC) Air Monitor
The VOC AIR monitor tracks total Volatile Organic Compounds, equivalent CO2, temperature, and humidity. The monitor collects readings in parts per billion (ppb). VOC's are air pollutants that are released as gases into the air from certain solids or liquids and can be found in many products or industrial processes.
3) Indoor Speck Monitor
"The Speck Monitor is an indoor air monitor that measures the current concentration of fine particles in the air."
Library Service update - We are open! The following is a list of what you can expect on your next visit and/or need to know information: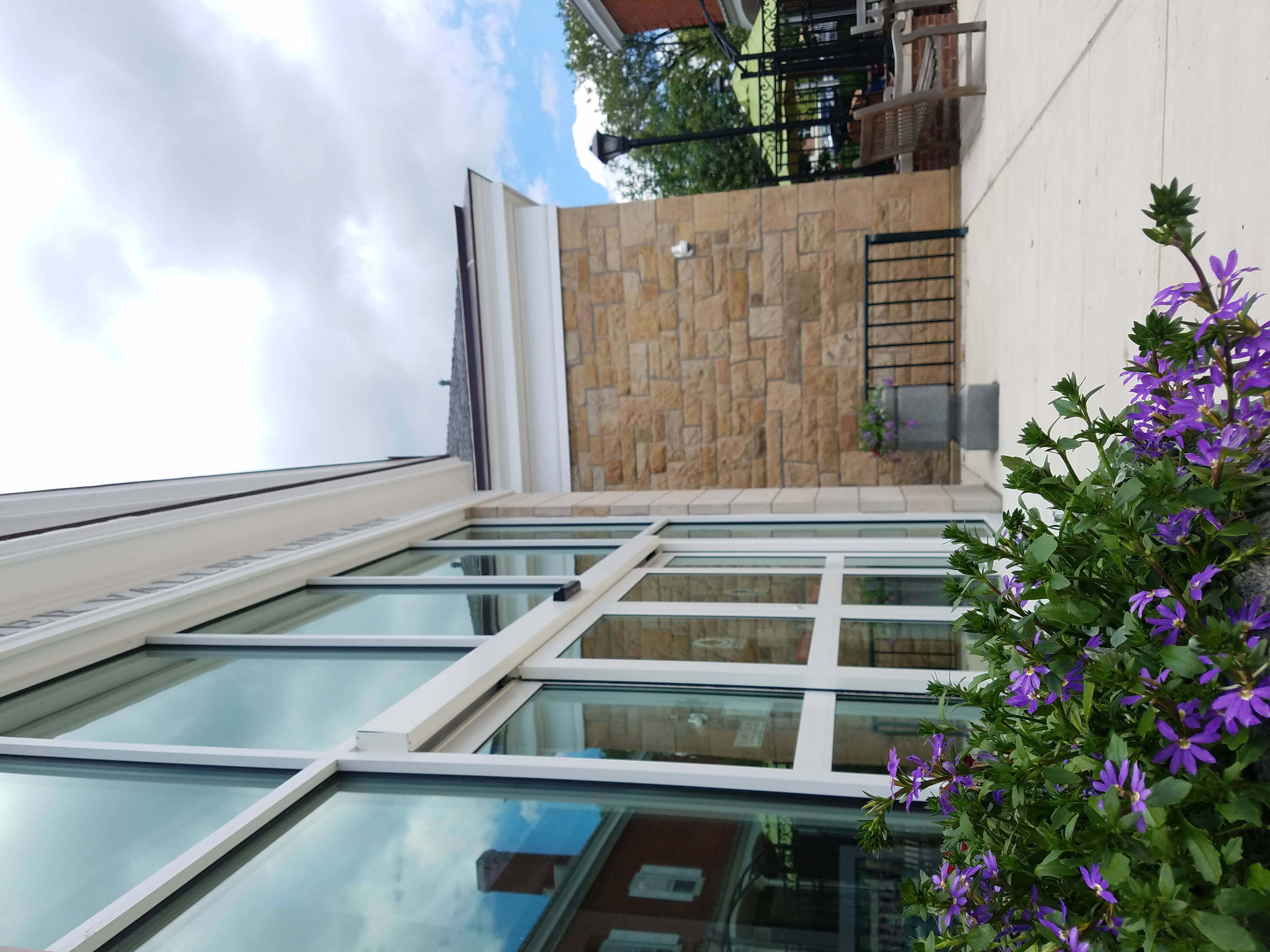 Full vaccinated individuals are not required to wear facemasks.
Food and drinks are allowed, but only in certain areas - you may not have them in the stacks, near our computers, or in the children's department.
Patrons have full access to the library's shelves and collection.
Newspapers and magazines are now available for browsing in the Diamond Room.
Flipster Digital Magazines are still available online.
Patrons can use the library's meeting rooms, sitting areas, patio, and restrooms - before you use any of our meeting rooms, please call ahead or check in at the main circulation desk to make sure the room is not already reserved.
Free Library WiFi is available throughout the building as well as on the patio and outside within one football field of our front door in all directions.
The Pennsylvania Room is currently by appointment. However, if you are in town, please feel welcome to stop in and inquire at the main circulation desk about availability. You may also contact the Pa Room Archivist via email at paroom@ligonierlibrary.org or call the library at 724-238-6451.
Patrons may return borrowed items through the Book Return slot outside (whether we are open or closed) or at the main desk during normal operating hours.
Items are no longer being quarantined.
Items are still auto-renewing, unless they are requested by another patron or you have reached the maximum amount of renewals. A reminder to return the items will be sent 3 days prior to the due date. A first notice will be sent 7 days after the due date, and a second notice to return the item(s) will be issued 14 days after the due date. Finally, if we do not hear from you 30 days after an item is due, a bill is automatically generated and mailed to you.
We wish to thank all of our patrons who have faithfully and patiently cooperated and understood as we attempted to navigate our way through these unprecedented times.
We will continue to strive to keep our patrons and staff safe, but also to meet the needs of our patrons and community. If you have any questions or need assistance, please call the library during normal operating hours at 724-238-6451.
If there are any changes to our hours or services, we will post them on our website and our Facebook page.
This was updated on 7/22/2021.
Extra fun available on Libby!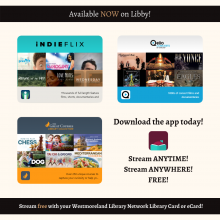 If you have used Libby to borrow eBooks, downloadable audiobooks, and movies, then you already know how great the app is to use. We are excited to say that Libby is now even better!!!
Open Libby on your smartphone or tablet (or visit libbyapp.com on your computer) to find three Extras that the Westmoreland Library Network is excited to share with our patrons - The Great Courses Library Collection, Qello Concerts, and IndieFlix!
Never stop learning with The Great Courses - from history to science to learning languages, find it all for FREE in one convenient place!
Stream pop culture favorites, box office hits, award-winning feature films, documentaries, and shorts with IndieFlix for FREE!
The world's largest collection of full-length concerts and music documentaries is available in Qello Concerts - literally, stream concerts from the best seat in your house for FREE!!!
These great services are available on Libby (the app is available in the iTunes and Google Play stores) or at libbyapp.com to Westmoreland Library Network patrons with an eCard and a physical library card (need one, visit Get a Library Card for more information). If you have any questions or need assistance, stop in or call the Ligonier Valley Library at 724-238-6451.